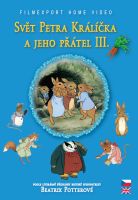 Svět Petra Králíčka a jeho přátel III. - DVD box slim
Příběhy Petra Králíčka a jeho přátel se odehrávají v přírodě a vyprávějí o zvířecích a lidských charakterech. V krátkých pohádkách děti proniknou do života zajíčka Benjamína, paní Bodlinkové, Johnnyho Měšťánka, paní Myšičkové, Samuela Fouskáčka, krejčího z Gloucestru, kocourka Toma, kachny domácí Jéminy, pana Toda, pana Jeremyho Rybáře a dalších.
7. Pohádka o Hoplinčiných zajíčcích a paní Myšičkové (25 min.)
8. Pohádka o panu Todovi (25 min.)
9. Pohádka o dvou darebných myškách a Johnym Měšťánkovi (25 min.)
---
titul naleznete také zde:
---
czech title: The World of Peter Rabbit and Friends
produkce Filmexport: Ano
length: 2x 25 min., 1x 26 min.
colour: barevný
year of release: 2001
studio: Frederick Warne & Co.
country of origin: Velká Británie
director: Dave Unwin, Tony Cuy
based on: Helen Beatrix Potterová
music: Colin Towns
picture: 4:3 PAL, region ALL
sound: Dolby Digital 2.0
language version: česká, anglická
medium type: DVD-5, DVD box
EAN: 8595052295709
Join us, we have our own channel!

where you will find samples from archival Czech films, animated fairy tales and documentaries, which we have released on DVD. You can also access them from our website, just click on the following names - Movie Songs and Favorite Movie Scenes and Buzz. The samples are sorted here according to individual films.