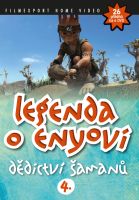 Legend of Enyo 4 - DVD box slim
Závisí na něm osud celého kmene... Ve vzdáleném světě se kočovný kmen Doodjiů vydává na dalekou cestu. S nimi putuje osiřelý chlapec jménem Enyo, jehož lidé z kmene přijali mezi sebe. Jediným chlapcovým přáním je stát se udatným lovcem. Osud mu však předurčil jiné poslání: musí se stát šamanem a musí nalézt cestu do bájného Skrytého údolí, aby zachránil nejenom svůj kmen. Na své strastiplné pouti zažívají Enyo a jeho lid nebývalá dobrodružství, která jim nachystal sám život.

videoukázka
13. Vzpomínky
14. Dokonalé údolí
15. Kwahgum
16. Uvnitř větrného víru
Ocenění:
Prestižní cena Emil za zvlášť úspěšnou produkci pro děti, 17. TV Spielfilm, Hamburg, Německo, březen 2011
Nominace na cenu Pulcinella v kategorii "TV Series For Tween", 15. Cartoons on the Bay – Pulcinella Awards, Itálie, duben 2011
Hlavní cena dětské poroty za animovaný seriál (Special Mention) v kategorii "Tricks For Kids", 18. Internationale Trick film-Festival Stuttgart – Festival of Animated Film, Německo, květen 2011
---
czech title: Legend of Enyo
produkce Filmexport: Ano
length: 4 x 24 min.
colour: barevný
year of release: 2009
studio: Funkhauser Film, Avrill Stark Entertainment, Flying Bark
country of origin: Austrálie
director: Kevin Wotton
script: Tony Morphett
music: Russel Thornton
picture: 16:9 PAL, region ALL
sound: Dolby Digital 2.0
language version: česká, anglická
medium type: DVD-5, DVD box slim
EAN: 8595052296713
Join us, we have our own channel!

where you will find samples from archival Czech films, animated fairy tales and documentaries, which we have released on DVD. You can also access them from our website, just click on the following names - Movie Songs and Favorite Movie Scenes and Buzz. The samples are sorted here according to individual films.